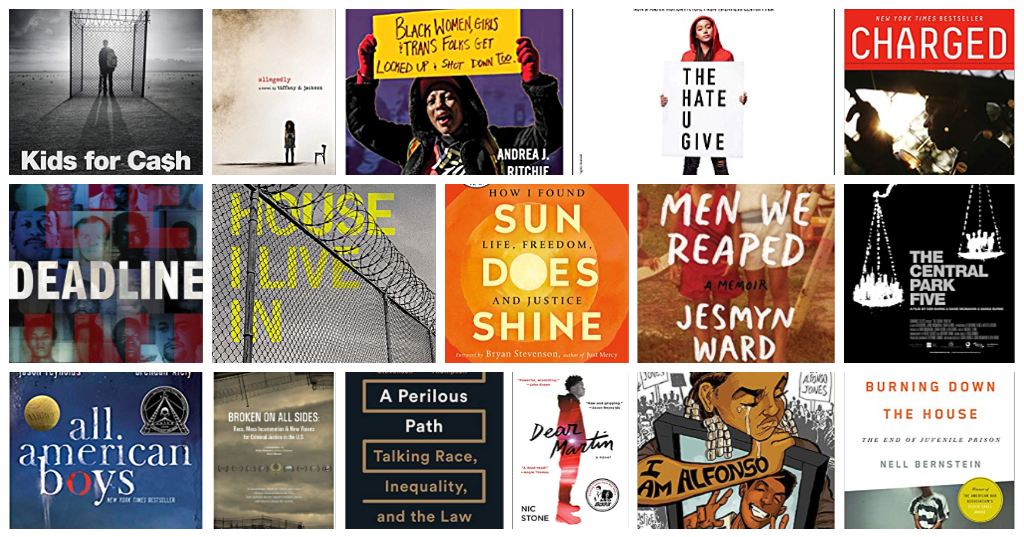 Tickets for our Stern Lecture Series, opens a new window sold out fast! And with acclaimed civil rights lawyer and best-selling author Bryan Stevenson as the inaugural speaker, we aren't surprised.
Stevenson is the founder of the Equal Justice Initiative, opens a new window, an organization that is "committed to ending mass incarceration and excessive punishment in the United States, to challenging racial and economic injustice, and to protecting basic human rights for the most vulnerable people in American society"(eji.org, opens a new window). He wrote the book Just Mercy: A Story of Justice and Redemption, opens a new window that is a #1 New York Times bestseller and currently being made in to a major motion picture, opens a new window starring Michael B. Jordan, Jamie Foxx, and Brie Larson. The movie hits theaters nationwide on January 17, 2020.
If you aren't able to attend the Stern Lecture Series to listen and learn from Stevenson in person, we have plenty of other ways for you to engage in his work to end mass incarceration, institutionalized racism, and economic oppression.
2.27 million people were incarcerated in jails and prisons across the country in 2017. This represents a staggering 500% increase over the last 40 years alone, far outpacing growth in both population and crime. African American, Latinx, and Indigenous people are particularly overrepresented in the U.S. prison population. 
Local and statewide organizations like the Ohio Innocence Project, opens a new window and the Ohio Justice & Policy Center, opens a new window are two groups like Stevenson's Equal Justice Initiative who are fighting for the wrongfully condemned. They advocate for a criminal justice system that is fair and redemptive. Both organizations have internship and volunteer opportunities available as well as ways to support their work through donations.
We've also rounded up a list of documentaries, books, eBooks, and audiobooks that focus on the injustices of the American mass incarceration system. These materials offer insight into this harmful system along with the ways in which we can collectively go about dismantling it and the other racist and repressive systems that feed into it.
Documentaries
For over 40 years, the War on Drugs has accounted for more than 45 million arrests, made America the world's largest jailer, and damaged poor communities. Yet for all that, drugs are cheaper, purer, and more available today than ever before. Filmed in more than 20 states, it captures heart-wrenching stories from individuals at all levels, the dealer to grieving mother, the narcotics officer to the senator, the inmate to the federal judge, revealing profound human rights implications.

Chronicles America's complicated perceptions of race and crime through the story of the Central Park Five (now known as the Exonerated Five) –a group of Black and Latino teenagers wrongfully convicted of brutally raping a white woman in New York City in 1989. Antron McCray, Kevin Richardson, Korey Wise, Raymond Santana, and Yusef Salaam serve their complete sentences, between six and thirteen years, before another man, a serial rapist, admits to the crime and DNA testing supports his confession.

In the wake of the shootings at Columbine High School, a small town in Luzerne County, Pennsylvania elected a charismatic judge who was hell-bent on keeping kids in line. Under his reign, more than 3,000 children were ripped from their families and imprisoned for years over petty crimes. When one parent dared to question his harsh brand of justice, it was revealed the judge had received millions of dollars in payments from the privately-owned juvenile detention centers.

America locks up more of its racial and ethnic minorities than any other country (including South Africa at the height of apartheid). Broken on All Sides explores the intersection of race and poverty within the criminal justice system. Presenting a historical narrative not often heard about prisons and crime, this documentary investigates the complex issues of discretion within the system, racial targeting, and the largest spike in the number of people incarcerated in our nation's history.

What would you do if you discovered that 13 people slated for execution had been found innocent? That was exactly the dilemma that Illinois Governor George Ryan faced in his final days in office. He, alone, was left to decide whether the remaining 167 death row inmates should live or die. This details the gripping drama of the clemency hearings during the countdown to Ryan's decision. Documented as the events unfolded, this is a compelling look inside America's prisons, highlighting one man's unlikely and historic actions against the system.

Fiction
When sixteen-year-old Rashad is mistakenly accused of stealing, classmate Quinn witnesses his brutal beating at the hands of a police officer who happens to be the older brother of his best friend. Told through Rashad and Quinn's alternating viewpoints.

When Mary, a teenager living in a group home, becomes pregnant, authorities take another look at the crime for which Mary was convicted when she was nine years old.

The ghost of fifteen-year-old Alfonso Jones travels in a New York subway car full of the living and the dead, watching his family and friends fight for justice after he is killed by an off-duty police officer while buying a suit in a Midtown department store.

After witnessing her friend's death at the hands of a police officer, Starr Carter's life is complicated when the police and a local drug lord try to intimidate her in an effort to learn what happened the night Kahlil died.

Writing letters to the late Dr. Martin Luther King Jr., seventeen-year-old college-bound Justyce McAllister struggles to face the reality of race relations today and how they are shaping him.

Nonfiction
With a foreword by his lawyer Bryan Stevenson, Hinton's memoir The Sun Does Shine is an extraordinary testament to the power of hope sustained through the darkest times. Destined to be a classic memoir of wrongful imprisonment and freedom won, Hinton's memoir tells his dramatic thirty-year journey and shows how you can take away a man's freedom, but you can't take away his imagination, humor, or joy.

With a foreword by his lawyer Bryan Stevenson, Hinton's memoir The Sun Does Shine is an extraordinary testament to the power of hope sustained through the darkest times. Destined to be a classic memoir of wrongful imprisonment and freedom won, Hinton's memoir tells his dramatic thirty-year journey and shows how you can take away a man's freedom, but you can't take away his imagination, humor, or joy.

One in three American children will be arrested by the time they are twenty-three, and many will spend time locked inside horrific detention centers that defy everything we know about how to rehabilitate young offenders. In a clear-eyed indictment of the juvenile justice system run amok, award-winning journalist Nell Bernstein shows that there is no right way to lock up a child

A renowned investigative journalist exposes the unchecked power of the prosecutor as a driving force in America's mass incarceration crisis. The system wasn't designed for this kind of unchecked power, and in Charged, Emily Bazelon shows that it is an underreported cause of enormous injustice--and the missing piece in the mass incarceration puzzle. In her book, she mounts a major critique of the American criminal justice system--and charts the movement for change.

Drawing on their collective decades of work on civil rights issues as well as personal histories of rising from poverty and oppression, these leading lights of the legal profession and the fight for racial justice talk about the importance of reclaiming the racial narrative and keeping our eyes on the horizon as we work for justice in an unjust time.

For more resources related to Bryan Stevenson's work on ending mass incarceration and institutionalized racism click here, opens a new window. Includes a comprehensive list of materials along with discussion guides for classrooms and communities. For resources on institutionalized racism as the result of slavery, click here, opens a new window.